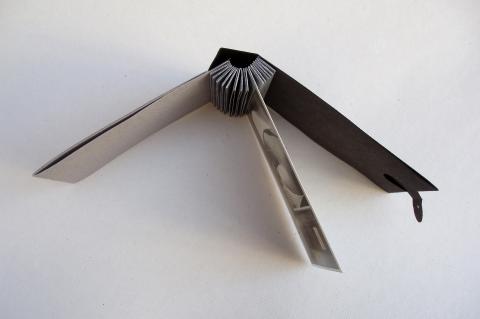 Location
Handboekbinderij Wilgenkamp Binnenplaats 40 1695 jj Blokker (Hoorn) NL
This course by Benjamin Elbel will unveil two elegant and unconventional methods for binding a collection of paper documents of the same size (like postcards), without the need of gluing them, drilling them or using plastic sleeves or standard photo corners.
See : www.be.net/boundbyben
One of them ,published in the' Festschrift for Hedi Kyle ' in 2009, almost magically holds postcards by pinching one of their edges into its pockets, while the other one takes advantage of a ingenious corner construction.
The workshop is also a good introduction to concertinas.
Explanations on measurements will be given, and following the course, participants should be able to go ahead and fold concertina of any size, to suit any purpose.
Participants should take a collection of postcards of the same size with them.
A bit knowledge of working with paper is recommended.
Language: English, with possible translations in french or german
Fee: € 185, lunch, coffee/tea and material included
More details about materials and equipment , travel information and information about B&B in Blokker/Hoorn and surroundings will send to the participants after registration .
--
Boekbinderij Wilgenkamp
Binnenplaats 40
1695JJ Blokker
0229-236658 / 0621277624
www.handboekbinderij-wilgenkamp.nl