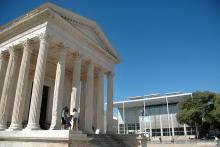 Event date
20 June 2014 - 14 September 2014
Location
Carré d'Art Bibliothèque 16 Place de la Maison Carrée, 30000 Nîmes, France
ARA France is organizing the XIth FIRA , in partnership with the city of Nîmes and its renowned Carré d'Art Library, the emblematic place for arts and culture of Nîmes.
FORUM: from 20 to 22 june 2014.
Exhibition from 20 june to 14 september 2014
More detailed programme and registration bulletin for the "Forum days" will be available at the end of january 2014.
See attachments.