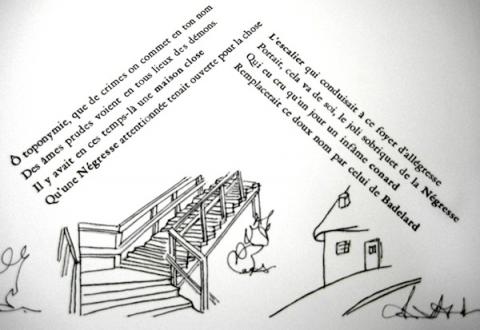 Event date
28 September 2012 - 26 October 2012
update 26 june 2011
Still 15 copies of" Escaliers de Québec": 3 / 25 and 12 H.C.
Quebec City boasts nearly 30 sets of outdoor stairs that link the Upper Town with the Lower Town of the Old City. Each stairway has its own name, personality and history. The oldest one is the "Escalier Casse-Cou" ("Neck Breaker Staircase"); it appears on architectural plans dating back to 1660. The longest one is the "Escalier du Cap-Blanc" staircase, leading to the Plaines of Abraham, with its 398 stairs.
A remarquable book, Les escaliers de Québec, was published in 2008 as a joint venture between an author, a designer and a fine press master, to celebrate Quebec's 400e anniversary. The accordeon book, or leporello, was hand set and printed on Somerset rag paper (250 g) in an edition of 25 copies, numbered 1 to 25, plus 12 hors-commerce copies, numbered 1 to 12. The type is Garamond 14 and Garamond bold 14. Each copy is illustrated by 11 original drawings. This is a truly unique artist book.
ARA-Canada invites bookbinders from all around the world, member and non-member, to purchase a copy of Les escaliers de Québec, and enter the exhibition to be held in fall 2012. Do not wait any longer, the copies will not last long.
More details (Entry Form doc; Identification Form word dc.)
see www.aracanada.org